Tips for travelling in bad weather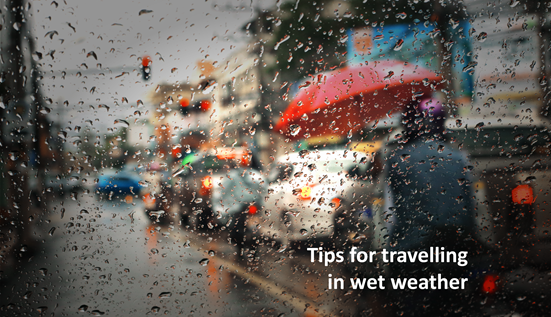 It can be stressful and dangerous to hit the road, both as a driver or a pedestrian, in this rainy weather. Visibility is significantly reduced, and our bearings are heavily challenged. SICOM invites you to be careful and has put together a few tips so that you are better prepared.


Driving under heavy rain
- Think twice before going out in the rain and, if possible, delay your trip. If this is impossible, check for road closure or any related information plus allow extra time to reach your destination.

- Don't wait for poor conditions to make sure your vehicle is up to the mark. Do take some time earlier before to check your:

- Tires: Make sure all 4 tires, including your spare one, are in good conditions – i.e. properly inflated so as to minimize risks of aquaplaning + treads depth is according to the legal requirement.

- Lights: Headlights and tail lights, including signals, should be kept in good conditions, always...
Widescreen wipers: They should all glide effortlessly on the widescreen.

- Air Conditioning: Fogged windows dangerously interfere with the driver's vision. Use the air conditioner temperature control to defog and increase the temperature, removing moisture from the air inside a car.


Now that you're on the road,


- Stay focused and alert. Generally, pedestrians are quite hard to detect by motorists under the rain.
- Slow down because you are driving within a whole new set of unknown traffic conditions.
- Keep your distance so that you may accommodate the reaction time, in case the vehicle in front brakes and/or stops. Cars will take more time to stop.
- Brake gently and early so that the driver behind notices and acts accordingly.
- Grant lorries and buses extra space.
- Be visible to others by turning your lights on.
- Avoid puddles as far as you can as they are leading factors for aquaplaning and can hide large potholes that may damage the car. If you don't have a choice, engage very slowly.
- Know your limit. If you can't see properly under heavy downpours, it's time to pull over and wait for better conditions. Look for a secure area and flick on the hazard warning lights to stay visible.


Pedestrians, be on the look-out too!
- If you are a pedestrian, these are small tips that can help you make your trip safe.
- Go out only if you need to and remain careful as the environment may change (flash floods, etc.).
- Wear highly colored, highly visible clothing.
- If possible, add reflective materials.
- Bring a flashlight.
- Don't run. This makes your movement highly unpredictable for motorists.
- Don't phone and walk! Use designated crossings.


Whether you are a driver or a pedestrian, take the time to analyse your environment to take the best decision(s) and be mindful of the fact that you are sharing the road with others. Try not to focus on your discomfort but on the traffic around you.


Recent Post