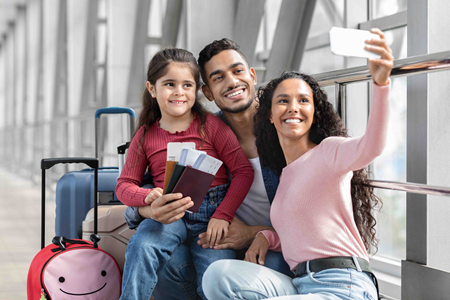 Travel Insurance
Whether you are travelling abroad for business or holidays, we offer a comprehensive Travel Insurance Package giving you peace of mind throughout your journey.
About this product
SICOM Travel Insurance will take care of any travel inconvenience you may face when on the move, including 24/7 Medical Assistance, benefits following Accidental Death or Disablement, protection against Personal Liability and reimbursement for Trip Cancellation / Curtailment, Travel delays etc
Highlighted features
Comprehensive Coverage

Single or Multi-Trip Coverage for any travel inconvenience

Personalised Coverage

Tailor-made packages & Group Discounts

24/7 Worldwide Assistance

Round the clock Medical Assistance & Emergency Hotline
Product Features
Why opt for SICOM Travel Insurance?
Travel Assistance

Pre-Travel advice, visa & passport queries, customs & duty regulations & foreign exchange rates

Cancellation & Curtailment

Cover for irrevocable travel costs in case your trip is cut short or has to be cancelled, medical expenses & evacuation & repatriation of dead body

Travel Inconvenience

Cover for accidental loss or theft of baggage, travel and luggage delays & missed departures and connections

Travel Accident

Coverage in case of death or permanent disablement

Personal Liability

Legal Liability to pay compensation to third parties

Overseas Legal Expenses And Assistance

Legal costs for compensation

Optional Coverage

Choice of coverage for business equipment, winter sports, golf, safari and cruises
( Terms and conditions apply)*
Useful Information
Proposers up to 84 Years

Note: Applicants aged 70 -84 years will be required to submit a Medical Examination Report duly completed, signed and dated by their treating doctor.

Completed, signed and dated Proposal Form for all applicants below 70 years.
Medical Examination Report to be completed by their treating doctor for Proposers aged 70 and above.
National Identity Card
Recent Utility Bill (not more than 3 months old)
Highlighted features
Comprehensive Coverage

Single or Multi-Trip Coverage for any travel inconvenience

Personalised Coverage

Tailor-made packages & Group Discounts

24/7 Worldwide Assistance

Round the clock Medical Assistance & Emergency Hotline
This product is offered by: SICOM General Insurance Ltd
BRN:C10094766
FSC License No: IS10000004