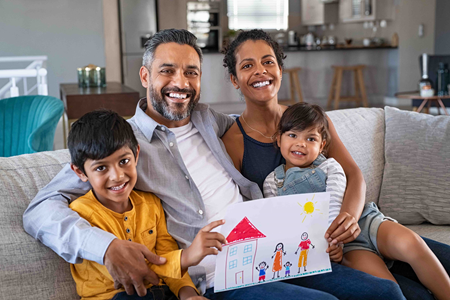 Home Insurance
Where your home is, your heart sits and as such your house is probably one of your most valuable property! Give it the protection that it needs by subscribing to our SICOM HomEasy Insurance.
About this product
SICOM HomEasy Insurance offers a range of options and is specially designed to protect your home, your assets and your family where you can benefit from coverage against a wide range of perils including fire, cyclone, flood, burglary, accidental damage, etc.
Highlighted features
Free Life Insurance Cover

For Premiums as from Rs5,000

Additional Discounts

Discounted Premium if house is equipped with security features

Optional Coverage

Choice of options such as Personal Accident, Personal and Employer's Liability
Product Features
Why opt for SICOM HomEasy?
Building

Include residential building Including fixtures and fittings, walls, gates and fences, aerials, solar water heaters, water tanks, garage and shed, swimming pool amongst others

Content

Include furniture, household goods and equipment including domestic electrical appliances, personal effects and other household items

Specific items (Optional)

Covers specified items on 'All Risks' basis, excluding mobile phones

Personal Liability/Tenant's Liability (Optional)

Personal liability of household members and liability as tenant limit any one occurrence and for the period: Rs 1 million

Employer's Liability (Optional)

Legal liability in respect of domestic staff Limit any one occurrence and for the period: Rs 1 million

Personal Accident (Optional)

Benefits to members of household following bodily injury by accident: Death, Permanent Total Disablement (PTD), Permanent Partial Disablement (PPD), Medical Expenses
( Terms and conditions apply)*
Useful Information
Cover for accidental damage to contents
Third party Liability and Personal liability of household members up to Rs1million, anywhere in Mauritius
Benefits to members of household following bodily injury anywhere in Mauritius on 24/7 basis
The policyholder [Provided he/she is employed and is aged not more than 60 years] benefits from a free life assurance cover for a sum Assured of Rs100,000 if the HomEasy premium is at least Rs 5,000
Alternative accommodation and rent expenses if house cannot be lived in as a result of loss or damage
Discount on premium if house is equipped with burglar alarm
All Risks cover on high-value items
Cover extensions at no additional premium
Liability towards domestic staff

All householders, either owners or tenants
Completed, signed and dated Proposal Form
National Identity Card
Recent Utility Bill (not more than 3 months old)
Highlighted features
Free Life Insurance Cover

For Premiums as from Rs5,000

Additional Discounts

Discounted Premium if house is equipped with security features

Optional Coverage

Choice of options such as Personal Accident, Personal and Employer's Liability
This product is offered by: SICOM General Insurance Ltd
BRN:C10094766
FSC License No: IS10000004